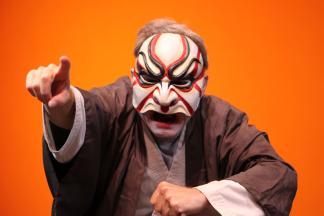 7 (x1) SAMURAI
By David Gaines
December 21 & 22
7 (x1) Samurai is an hour-long, acrobatic, wordless, cartoon-styled solo rendition of Kurosawa's classic 3 hour epic film The Seven Samurai. It is breathtaking, memorable, and astonishingly funny.
Energetic, ridiculous, hilarious, and acrobatic, it is a thrilling demonstration of movement, gesture, rhythm, mask work (with two Kabuki inspired masks), vocalized sound effects, deft character portrayals, and a mischievous sense of humor. With just these tools, an epic and timeless story is brought to life on the wide screen of the audience's imagination.
Showtimes:
December 21 @ 8pm
December 22 @ 3pm
Tickets:
General Admission – $25
Student/Senior/Artist/Military – $20
Event Contact
410-752-8558
Event Details
Saturday, December 21, 2019, 8:00 PM – 9:30 PM
Sunday, December 22, 2019, 3:00 PM – 4:30 PM
410-752-8558
1
Offer good
12/05/19

to

12/22/19
Redemption Instructions
A limited number of half price tickets are available for each performance. When purchasing on-line, choose your date, then enter 7X1HALF in the "Promo Code" box. The half price tickets will be available to purchase.
Location
Add Event To Your Calendar