Homewood Museum Antiques Forum: Baltimore & the Backcountry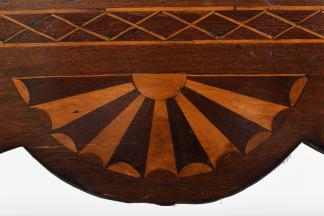 This year's Antiques Forum examines Federal backcountry furniture. By comparing the furniture produced in stylistic urban centers like Baltimore with objects made or used in Western Maryland and Virginia, experts will demonstrate the diversity of influences at work in the early Federal-era material marketplace.
The day will start with lectures by Nick Powers, Collections Curator at the Museum of the Shenandoah Valley, and Bethany McGlyn, the Lois F. McNeil Fellow in the Winterthur Program in American Matieral Culture at the University of Delaware.
After lunch at the Johns Hopkins Club and a keynote talk by furniture scholar and antiques dealer Sumpter Priddy III, attendees will participate in two furniture workshops: "Deconstructing Baltimore Furniture" and "Looking Toward the Backcountry" with Nick Powers and Michelle Fitzgerald, the Assistant Curator of Homewood Museum.
Ticket includes continental breakfast, seated lunch, and afternoon reception.
Homewood Museum's Antiques Forum: Baltimore and the Backcountry is supported by Forbes and Sara Maner and Alex Cooper.
Event Contact
Homewood Museum
410-516-5589
Event Details
Friday, November 15, 2019, 10:00 AM – 5:00 PM
410-516-5589
Location
Add Event To Your Calendar