Melvin Edwards: Crossroads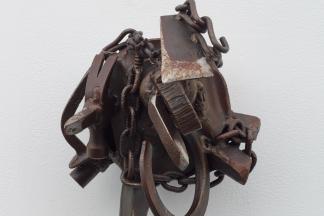 This exhibition explores the cross-cultural connections in Melvin Edwards' sculpture from 1980 to the present. Edwards (American, b. 1937) was profoundly influenced by his experience at a major arts festival in Lagos in 1977. Since then his work has increasingly connected to African art, languages, poetry, liberation politics, and philosophy. He has made reciprocal ties to many African countries, such as Nigeria, Ghana, Zimbabwe, and Senegal, where he has maintained a home for nearly 20 years. Through the presentation of 18 works from the artist's Lynch Fragments series shown alongside a selection of larger sculpture, including the room-size installation, Agricole, Crossroads tells the story of Edwards' travels, the people he engaged, and the larger social history of the period.
Curated by Christopher Bedford, BMA Dorothy Wagner Wallis Director and Katy Siegel, BMA Senior Programing and Research Curator and Thaw Chair at Stony Brook University.
This exhibition is generously sponsored by the Smart Family Foundation of Illinois, the Henry Moore Foundation, and Clair Zamoiski Segal.
Event Contact
sarah pedroni
4435731870
Event Details
Repeats weekly Sunday and Wednesday and Thursday and Friday and Saturday -- until Sunday January 12, 2020 -- except Thursday November 28, 2019, Wednesday December 25, 2019, Wednesday January 1, 2020.
Free Admission
Location
Add Event To Your Calendar