An Evening with Fred Watkins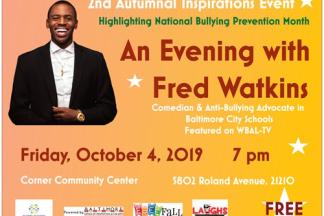 In support of National Bullying Prevention Month in October, we intend to increase awareness of workplace bullying in the Greater Baltimore area, informing employers how to foster healthy workplaces and empower employees to find the legal and mental health support they need.
Fred "Big Fred" Watkins is a comedian, actor and show producer from Baltimore, MD. Known most notably as a member of "The Empire" on Oxygen TV's hit show "Last Squad Standing," he is currently an Open Society Institute Baltimore Community Fellow for his work with Lil Laughs, a program that seeks to build confidence in Baltimore City Public School students through an anti-bullying campaign fueled by comedy.
Fred uses his story of personal loss and injury as inspiration to positively impact people through laughter, while innovating the live comedy experience and cultivating platforms for community enrichment. Fred will provide us with his unique outlook on life, laughter, luck, and love.
Whether he is sharing the stage, or providing an extended platform at one of his produced comedy shows through BIG Laughs Company LLC, Big Fred is an innovator who is constantly finding ways to create new lanes in the comedy and entertainment industries.
Inspired by the likes of Dick Gregory, Jerry Seinfeld, Richard Pryor, Eddie Griffin, Steve Harvey, and Kevin Hart, BIG Fred is passionately providing a different take on the live comedy experience, and the greater impact comedy can have in the community.
This FREE event is hosted by The Baltimore Job Hunters Support Group and is sponsored by Free Fall Baltimore, Baltimore Office of Promotions and The Arts, and Lil' Laughs
For more info on BJHSG: www.bjhsg.org
Event Contact
Janet Glover-Kerkvliet
Event Details
Friday, October 4, 2019, 7:00 PM – 9:30 PM
Free Admission
Location
Add Event To Your Calendar