Giacomo Smith & The Kansas Smitty's Band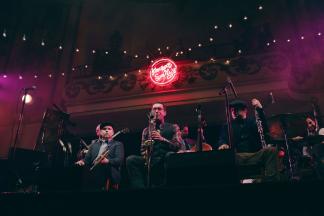 Fresh off his jaw-dropping performance at our annual Django Jazz Fest, clarinet virtuoso Giacomo Smith brings his entire group from London for a swinging mid-week show.
From the moment they played their first note five years ago, the Kansas Smitty's House Band has set out to reinvent how audiences experience jazz. The House Band is a tight-knit outfit that make jazz inclusive with an emphasis on camaraderie, spontaneity, and joy.
Grounded in a shared love for the whole jazz tradition and recently nominated for best UK Jazz Act by Jazz FM, the group is perpetually inventing new music with the aim that no two shows ever be the same. Alongside this nomination, 2018 has seen the House Band perform for the first time at North Sea Jazz Festival alongside dates in Italy, Belgium, France.
This year is also a landmark for their cult East London home, Kansas Smitty's, which will be turning four in May. The concept of a jazz band that owns its own bar is unprecedented, almost as unprecedented as a band who premieres new music at each show. Their venue has supported hundreds of bands since it opened its doors, providing a stage for them to showcase their own music and reach new audiences.
Kansas Smitty's is about fostering the creation of new original music and leaving audiences energized. Come and be part of their new wave of jazz.
WED JUN 26 | 7:30PM | $23, $20 MEMBERS (+$3 at the door)
Event Contact
4102761651
Event Details
Wednesday, June 26, 2019, 7:30 PM – 11:00 PM
Prices:
$20
–
$23 (+3 at Door)
4102761651
Location
Add Event To Your Calendar