Guitar Orchestras & Ensembles featuring Meng Su, Manuel Barrueco, and Sergio Assad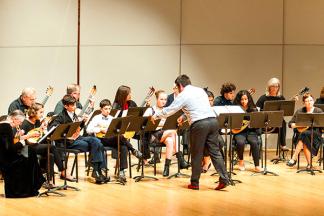 This concert features various Maryland guitar orchestras and ensembles. Sergio Assad will be a special guest conductor for the Baltimore premiere of his "Giornata a Nettuno" for guitar orchestra which will feature Manuel Barrueco and Meng Su.
PROGRAM:
Tango to Evora by L. Mckennitt
Three's Company by A. Forrest
Hereford Guitar Ensemble - Conductor: David Sobel
Adagio Allegro from Concerto for Four Violins in D by G. Ph. Telemann
Pontieo by C. Machado
Peabody Preparatory Guitar Performance Academy - Conductor: Zoe Johnstone Stewart
Palladio by K. Jenkins
Gideon by J. James
BCGS Orchestra - Conductor: Scott Borg
Remember Me by R. Lopez & K. Anderson-Lopez
"Guitars for Change" Ensemble - Conductor: Gabriel Rodríguez
Giornata a Nettuno (Baltimore premiere) by S. Assad
Malagueña by E. Lecuona
Barrueco Guitar Ensemble - Conductor: Sergio Assad
Manuel Barrueco, Andrea Gonzalez Caballero, Nadja Jankovic, Junhong Kuang, Jennifer Kim, Connor Milstead, Rubén Portillo, Thomas Potts, Meng Su, and Jesse Washburn.
Event Contact
4432962247
Event Details
Sunday, March 8, 2020, 2:00 PM – 3:30 PM
4432962247
1
Offer good
02/11/20

to

03/07/20
Redemption Instructions
Enter discount code FunGuide when checking out. Coupon expires on Saturday, March 7. Discount tickets CANNOT be purchased at the concert.
Location
Add Event To Your Calendar