PARKER NOLEN IN "NOT EXACTLY PARIS"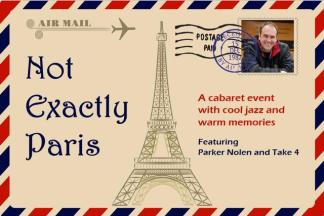 Originally from Indianapolis, Parker Nolen arrived in the Washington DC area in 2017 (by way of Seattle, San Francisco, Atlanta, Montreal, Nashville, Saint Louis, and Dallas). He is a classically-trained singer and for the last 30 years has performed with orchestras and chorales in concert halls across North America - notably Carnegie Hall (Mozart Requiem) and Davies Symphony Hall (Britten's War Requiem).
Parker started solo jazz performances in 2010. He is just as comfortable in a concert hall as he is a listening room and has been performing to steady acclaim on the cabaret and jazz scene since his debut at the Something COOL Cabaret Festival in San Francisco.
His new cabaret, "Not Exactly Paris" is a journey through song and storytelling about dating as a gay man "of a certain age.
Event Contact
Cyd Wolf
410-752-4515
Event Details
Sunday, June 16, 2019, 6:00 PM – 9:00 PM
Location
Add Event To Your Calendar