The Turn of the Screw by Jack Neary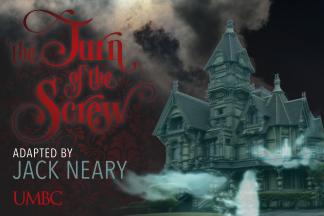 Isolated in a sprawling manor in 19th century England, a governess is hired to watch a precocious young brother and sister in this haunting adaptation of Henry James' classic novella. Though the governess bonds with the children at first, she quickly begins to suspect something is wrong when she sees the grotesque figures of the former governess and caretaker of the manor — both a whom are supposedly deceased. Is she seeing actual ghosts, or merely figments of her imagination? Featuring for her life and sanity, the governess begins an investigation to find out what happened to her predecessors and who else knows of their presence.
Performances:
Thursday, April 25, 8 p.m.
Friday, April 26, 8 p.m.
Saturday, April 27, 8 p.m.
Friday, May 3, 8 p.m.
Saturday, May 4, 8 p.m.
Sunday, May 5, 2 p.m.*
$15 general admission, $10 students/seniors. Tickets will be available online (spring 2019) or at the box office.
*Complimentary tickets will be available for UMBC students for the 2 p.m. matinee performance. These tickets will become available online Wednesday, April 24 at noon.
All ticket sales benefit the UMBC Department of Theatre scholarship fund.
Event Contact
Justine Cataneo
7322848398
Event Details
Repeats weekly Sunday and Friday and Saturday 1 times.
Location
Add Event To Your Calendar