Volunteer Income Tax Assistance (VITA) program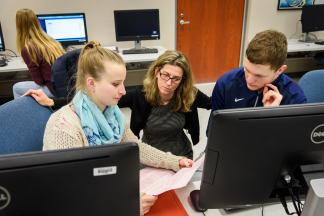 Accounting, economics and business administration students at McDaniel College prepare free income tax returns for low-to-moderate income taxpayers through the Volunteer Income Tax Assistance (VITA) program.
VITA is open to those who earn $54,000 or less annually. In most cases, returns can be filed electronically.
McDaniel has offered VITA for over 20 years. At each session, students help answer questions, as well as prepare and file tax returns. The students can receive internship credit for training hours and time spent with clients.
All tax preparation sessions are by appointment onlyand are offered on Fridays, 1–3 p.m., and Sundays, 10 a.m.–noon, from Feb. 1 through April 5 (no sessions are held during McDaniel's Spring Break on March 15, 17, 22 and 24) at McDaniel College, 2 College Hill, Westminster, Md.
Event Contact
McDaniel College Office of Communications
410-871-3344
Event Details
Repeats weekly Sunday and Friday -- until Friday April 5, 2019.
Free Admission
Location
Add Event To Your Calendar