The Susquehanna Museum at the Lock House presents The Shank Lecture Series: The Lost Village of Conowingo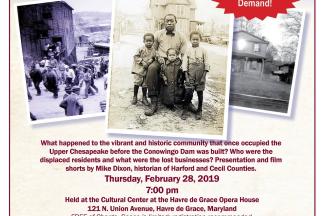 What happened to the vibrant and historic community that once occupied the
Upper Chesapeake before the Conowingo Dam was built? Who were the
displaced residents and what were the lost businesses? Presentation and film
shorts by Mike Dixon, historian of Harford and Cecil Counties.
Free Admission. Space is limited. Registration is recommended
Event Contact
Rebecca Jessop
443-502-2005
Event Details
Thursday, February 28, 2019, 7:00 PM – 9:00 PM
443-502-2005
Free Admission
Location
Add Event To Your Calendar