Tidewater Players Present "Heather The Musical"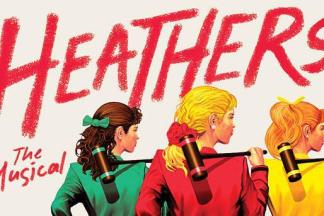 JOIN US FOR OUR TRADITIONAL, FREE, OPENING NIGHT RECEPTION WITH THE CAST & CREW!
Music, Lyrics, & Book by Laurence O'Keefe and Kevin Murphy
Based on the motion picture Heathers, distributed by New World Pictures and written by Daniel Walters
Directed by Austin Barnes & Laurie Starkey
Musical Direction by R. Christopher Rose
Choreography by Leslie Perry
Heathers The Musical is the darkly delicious story of Veronica Sawyer, a brainy, beautiful teenage misfit who hustles her way into the most powerful and ruthless clique at Westerberg High: the Heathers, the original Mean Girls. But before she can get comfortable atop the high school food chain, Veronica falls in love with the dangerously sexy new kid J.D. When Heather Chandler, the Almighty, banishes her from the group, Veronica decides to bite the bullet and kiss Heather's aerobicized ass, but J.D. has other plans for that bullet…
Brought to you by the award-winning creative team of Kevin Murphy (Reefer Madness, "Desperate Housewives") and Laurence O'Keefe (Bat Boy, Legally Blonde). Heathers The Musical is a hilarious, heartfelt, and homicidal musical based on the original greatest teen comedy of all time. With its moving love story, ferocious comedy, and unflinching look at the joys and anguish of high school, Heathers, although conceived during the excess of the 80s, still rings true in today's youth culture. So, are you in, or are you out?
Note-
This performance would be rated R. Musical includes adult language & situations and the topic of teen suicide.
If you have any questions about this or any other Tidewater Players show, visit www.Tidewaterplayers.com or email us at [email protected].
Event Contact
Rebecca Jessop
410-502-2005
Event Details
Repeats weekly Sunday and Friday and Saturday -- until Sunday March 3, 2019.
410-502-2005
Location
Add Event To Your Calendar