COLLIDE: Deep Vision & ASEID Dance COLLIDE at Baltimore Theatre Project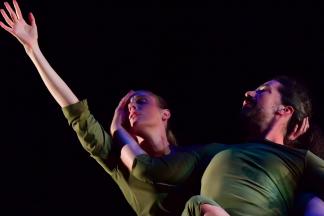 Deep Vision Dance Company and ASEID Contemporary Dance Company COLLIDE for an eclectic evening of contemporary dance highlighting their unique styles, brilliance, virtuosic range, and nuanced splendor. Featuring choreography by Artistic Directors Nicole A. Martinell and Alison Seidenstricker, respectively, and collaborations with dancers, choreographers, visual artists, and musicians from District of Columbia and Maryland.
Collaborations with Malcolm Shute (choreographer), Griff Beheler (musician), and Lindsay D'Andelet (visual artist).
Dates: Saturday, March 2 @ 7:30PM & Sunday, March 3 @ 3:00PM
Location: Baltimore Theatre Project, 45 W Preston St., Baltimore, MD 21201 www.theatreproject.org/collide/
Tickets: $25 General; $20 for Seniors/Military/Artists; $15 Students_410-752-8558_https://theatreproject.ticketspice.com/collide
Deep Vision Website: http://www.deepvisiondancecompany.org/collide.html
Facebook Event: https://www.facebook.com/events/187498595454874/
Photo Credit: Kanji Takeno
Event Contact
Nicole A. Martinell
443-567-0028
Event Details
Saturday, March 2, 2019, 7:30 PM – 8:45 PM
Sunday, March 3, 2019, 3:00 PM – 4:15 PM
Prices: – Array
410-752-8558
1
Redemption Instructions
When purchasing on-line, enter COLLIDEHALF in the Promo Code box. Then choose an Event Date. The half-price ticket option will now be available.
Location
Add Event To Your Calendar