Latin Jazz: Jorge Glem & Cesar Orozco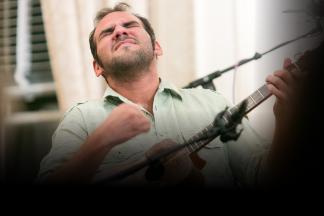 Jorge Glem is probably the greatest living master of the infectiously rhythmic four-string Venezuelan cuatro. For this show, he pairs up with Cuban/Venezuelan pianist Cesar Orozco. For this project, both performers explore their instruments to the fullest by mixing the colors of traditional genres such as Venezuelan joropo, merengue,and Cuban son with some worldwide renowned masterpieces from pop and jazz. The end result, is a fascinating journey full of rhythms, melodies and harmonies that listeners will enjoy through covers and original songs by both Glem and Orozco.
About Jorge:
Award winning cuatro player, mandolinist and musical producer, Jorge Glem is without a doubt one of Venezuela's musical treasures. Born in Cumaná, Venezuela, Glem, who currently resides in New York City, has set out with a clear and driven purpose of presenting the Venezuelan cuatro as a universal instrument. His amazing talent and purpose have allowed him to share the stage with renown worldwide figures such as Paquito D'Rivera, Jordan Rudess, Rubén Blades, Carlos Vives, Calle 13, Natalia Lafoucarde, Guaco, Desorden Público, Ensamble Gurrufío, Gualberto Ibarreto, Etienne Charles and many other important music personalities, accomplishing the fuse of this traditional instrument in genres such as jazz, salsa, bluegrass, rock, and pop.
" [ Glem's perfomance at Lincoln Center,] reaffirmed his status as one of the most individualistically talented players in any style of music around the world" - New York Music Daily
About Cesar:
Orozco was born in Cuba in 1980 and earned a degree in Violin Performance and Ensemble Conducting from the National School of Arts in Havana, Cuba in 1998. The same year, he traveled to Venezuela after accepting an invitation from the Carabobo Symphony Orchestra as a violinist. In Venezuela, Mr. Orozco performed and/or recorded with some of the most important local artists, including Guaco, Rafael "El Pollo" Brito, Andres Briceño, Maria Teresa Chacín, Soledad Bravo, Kiara, Karina, Frank Quintero, Aquiles Báez, Ilan Chester, Orlando Poleo, Gerardo Rosales, Alfredo Naranjo, Simón Bolívar Symphony Orchestra, Carabobo Symphony Orchestra, Pablo Gil, Simón Díaz and flautist Huáscar Barradas among many others. He also served as a Professor of Jazz Piano, Harmony, and Ensembles for more than three years at the National Experimental University of the Arts in Caracas.
Since relocating to the New York tri-state area in 2015, Mr. Orozco has become an in-demand pianist as a sideman as well as a leader of his own projects. Some of the artists he has worked with include Paquito D'Rivera, Pedrito Martinez, Gary Thomas, Yosvany Terry, Flavio Sala, Luisito Quintero, Gilberto Santa Rosa, Luis Enrique, Itai Kriss, Troy Roberts, Paul Bollenback, Jeremy Warren, and Giovanni Hidalgo just to name a few. Orozco has developed an innovative approach to a fusion of Venezuelan and Cuban traditional music with Jazz along with his project Kamarata Jazz. He has appeared in more than 70 albums and his recordings as a leader include "Son con Pajarillo" (2007), "Ebano y Marfil" (2008), "Orozcojam" (Guataca, 2010), which was awarded for Best vocal/Instrumental album at Cubadisco 2012 in Havana, Cuba, "No Limits for Tumbao" (Alfi Records, 2015) and the latest one "Stringwise", a duet with the outstanding Venezuelan Cuatro player Jorge Glem. He is also a recipient of a DownBeat Magazine's 2014 Student Music Award for Original Composition (Orozcojam) Small Ensemble Outstanding Performance.
SAT JAN 19 | 8PM | $20, $17 MEMBERS (+$3 At the door)
1. De Que Callada Manera 1:25 2. Englishman in New York 9:32 3. Zumba Que Zumba 18:37 Watch Jorge Glem Duo live @ Paste Studio NYC, presented by GroundUP Music! More performance sessions and interviews here: https://www.pastemagazine.com/article...
Event Contact
Creative Alliance
410-276-1651
Event Details
Saturday, January 19, 2019, 8:00 PM – 10:00 PM
Prices:
$17, Members (+ $3 at the door)
–
$20, General Admission (+ $3 at the door)
410-276-1651
Location
Add Event To Your Calendar