ELLEN CHERRY: SONG AND STORY ALCHEMIST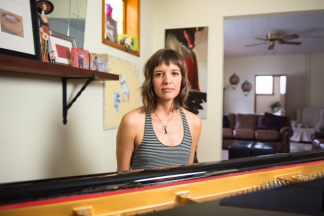 ellen cherry is a song and story alchemist, musician, designer, artist, producer, recording engineer, and human.
Emmy nominated singer/songwriter ellen cherry (lowercase letters intentional!) is a full-time touring and working performer based in Baltimore, MD. In 2018, ellen presents a new touring project called "Portraits in Song" that marries her love of storytelling and her passion for history through songs and portraits of interesting women in history. In 2016, she released new recorded works (Portraits, The Thread) as a follow up to the very intimate, piano-based album entitled Please Don't Sell the Piano (2012). ellen was a Strathmore Artist-in-Residence and co-produced Mobtown Moon, a re-imagining of "Dark Side of the Moon" (2013) that featured over 50 musicians from Baltimore. In 2010, she wrote, recorded and performed a song for an Emmy nominated TV campaign and also composed the score for a shadow puppet piece entitled "Alonzo's Lullaby", which has been awarded the prestigious UNIMA Citation of Excellence and jump started years of continuing work with puppeteers. ellen tours nationally and internationally, charming audiences from house concerts to festivals!
Event Contact
Cyd Wolf
410-752-4515
Event Details
Sunday, December 9, 2018, 12:00 PM – 3:00 PM
1
Offer good
12/04/18

to

12/09/18
Redemption Instructions
Five tickets are offered at half-price for each Cabaret performance. To claim yours, please call Germano's PIATTINI to make a reservation for dinner and the show. Mention this CultureFly discount when you do so. We will process your half-price ticket purchase during your call. Thank you! (410) 752-4515
Location
Add Event To Your Calendar