"THE BEST OF HAMILTON" BY ELLEN KATZ, BROADWAY EDUTAINER AND VOCALIST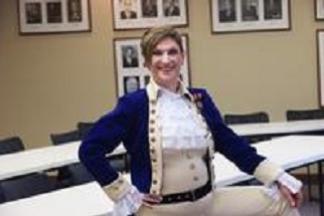 LET ELLEN KATZ DAZZLE YOU WITH THE SHEER BRILLIANCE OF "HAMILTON".
BALTIMORE'S BEST BROADWAY EDUCATOR CONNECTS YOU TO THE MUSIC AND STORY OF AMERICA'S AMAZING FOUNDING FATHER. WITH EXCITING VISUALS AND MUSIC, SHE TELLS HIS STORY IN A UNIQUE AND CREATIVE PRESENTATION THAT BOTH STANDS ON ITS OWN AND WILL ENHANCE YOUR "HAMILTON" EXPERIENCE WHEN THE BROADWAY PHENOMENON COMES TO BALTIMORE.
ATTEND BOTH SESSIONS!
ACT 1- HAMILTON'S JOURNEY TO MANHATTAN FROM ST. CROIX AND HIS RISE FROM IMMIGRANT TO THE HERO OF THE REVOLUTIONARY WAR. HEAR A VARIETY (NOT JUST RAP) OF BRILLIANT SONGS BY GEORGE WASHINGTON, LAFAYETTE, AND HAMILTON'S GORGEOUS WIFE, ELIZA.
PERFORMANCES ON MONDAY, OCTOBER 1, 2018, AT 6PM AND SUNDAY OCTOBER 21, 2018 BRUNCH AT NOON.
ACT 2- SEE HAMILTON'S VISION OF SHAPING THE CONSTITUTION AND OUR COUNTRY'S FINANCIAL SYSTEM. HEAR THE SONGS OF HIS MISTRESS, MARIA REYNOLDS, AND AARON BURR, HIS POLITICAL RIVAL. BE AMAZED BY HIS LEGACY TOLD IN THE INSPIRING MUSIC THAT CAPTURES HIS LIFE STORY.
PERFORMANCES ON MONDAY, OCTOBER 8, 2018 AT 6PM AND SUNDAY OCTOBER 28, BRUNCH AT NOON.
HAMILTON SING A LONG!
ELLEN LEADS US IN THE FABULOUS SONGS FROM HAMILTON. LEARN TO RAP, SNAP AND TAP TO THE CLEVER, CATCHY AND INDELIBLE SONGS OF LYN-MANUEL MIRANDA, AMERICA'S MODERN "SHAKESPEARE".
SUNDAY, NOVEMBER 11, 2018 BRUNCH AT NOON
Event Contact
Cyd Wolf
410-752-4515
Event Details
Sunday, November 11, 2018, 12:00 PM – 3:00 PM
Prices: – Array
1
Redemption Instructions
Five tickets are offered at half-price for each Cabaret performance. To claim yours, please call Germano's PIATTINI to make a reservation for dinner and the show. Mention this CultureFly discount when you do so. We will process your half-price ticket purchase during your call. Thank you! (410) 752-4515
Location
Add Event To Your Calendar