2nd Saturday Contra Dance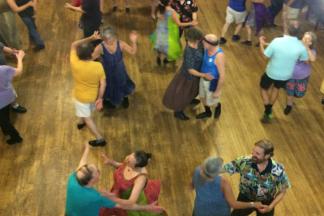 Starting in September 2018, the Second Saturday dance will move to the Church of the Nativity & Holy Comforter, Hart Hall. 6112 York Rd, Baltimore.
The Baltimore Folk Music Society presents American Square and Contra Dancing on the 2nd Saturday of the month running from 8:00 'till 11:00 pm, with a short break in the middle.
Admission is: $10 BFMS Members & Affiliates, $13 non-members. Under 21 and full-time students with ID: $5 members, $7 non-members.
Beginners, singles, couples, and families are welcome. No Experience necessary; you don't need to bring a partner.

Please download our Saturday Dance Flier http://www.bfms.org/pdf/Saturday_and_Fall_Dances_2018.pdf
For more information call the BFMS hotline at 888-646-BFMS or email Sara at satdance at bfms.org.
The dance is held at the Church of the Nativity & Holy Comforter Hart Hall 6112 York Rd, Baltimore, MD 21212
Directions to the Church of the Nativity http://www.bfms.org/directionsToChurchoftheNativity.php
Introduction to Contra Dance: 7:30–8 pm
Contra Dance: 8–11 pm
This is a typical community dance in Baltimore showing the figures of the dance with the music playing and caller instructing the dancers what to do. It is a joyful community dance.
Event Contact
Baltimore Folk Music Society
8886462367
Event Details
Saturday, December 14, 2019, 7:30 PM – 11:00 PM
Repeats monthly on February, March, April, May, June, September, October, November, December on the second Saturday 13 times.
Location
Add Event To Your Calendar
What Others Are Saying
https://www.npr.org/templates/story/story.php?storyId=128273050
https://www.youtube.com/watch?v=5ieWAnm5lhQ