Celebration of the Psalms & Bachfest Fundraiser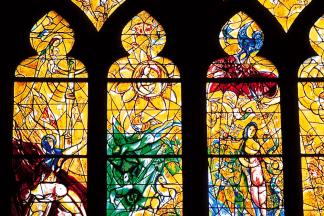 Bernstein's Chichester Psalms
Gabrieli: In Eccelisiis (Psalm 26); Jubilate Deo (Psalm 100); & Canzon Primi Toni
Antonin Dvořák: Psalm 23
Works for multiple choirs of brass instruments
KeeSun Kwon, Soprano
Hazzan Emmanuel Perlman, Lyric Tenor
Archbishop Curley High School
The Psalms of the Old Testament evoke beauty, contemplation, and affirmation. For our Celebration of the Psalms program, the Bach in Baltimore Choir and Orchestra will perform sacred choral works celebrating selected psalms by three distinguished composers: the beloved American composer Leonard Bernstein in celebration of his 100th birthday; the Baroque and early Renaissance Italian composer Giovanni Gabrieli; and the 19th century Czech composer Antonín Dvořák. Hazzan "Manny" Perlman from Chizuk Amuno Congregation will perform Dvořák's Psalm 23 in Hebrew. Our brass ensemble will also perform antiphonal works that will amaze and astound.
The 9th Annual BachFest Fundraiser will follow the concert at the Church of Redeemer. The evening includes a buffet dinner and open bar, as well as opportunities to win raffle prizes and bid on items in our silent auction. All proceeds from the purchase of raffle tickets and silent auction directly support Bach in Baltimore this season – so don't wait, get your tickets today.
Concert & Bachfest Fundraiser Package Admission: $60
Concert Only Admission: $40
Event Contact
Kristen LePine
Event Details
Sunday, March 3, 2019, 4:00 PM – 8:00 PM
Prices: – Array
4109419262
1
Offer good
02/27/19

to

03/02/19
Redemption Instructions
Use promo code when directed at checkout: MARCH3.
Location
Add Event To Your Calendar