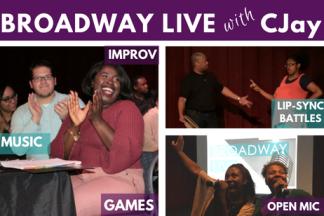 Broadway Live is back, at the Showroom in Motor House with food, drinks, and a fun night out for Broadway Lovers and friends!
In addition to a chance to perform, the event will include improv, games, lip-sync battles, food and drinks. The event is divided into two acts, Act 1 for families and kids and Act 2 for adults 18 and over.
6-7:30PM (ACT 1) Parents and kids under 18 *pay what you can
7:30-9PM (ACT 2) Adults ages 18 and over *$10 in advance, $15 at door
CJay Philip is a Broadway veteran who's leads Dance and Bmore, a diverse ensemble of singers, dancers, poets and musicians who create a fusion of socially conscious work that is both interactive and empowering. Dance and Bmore travels around the city teaching dance classes to a variety of different groups. For more information, visit www.danceandbmore.com, or call 410-871-8322.
WATCH: What is Broadway Live?
Event Contact
Dance and Bmore
4108718322
Event Details
Saturday, August 11, 2018, 6:00 PM – 9:30 PM
Prices: – Array
4108718322
Location
Add Event To Your Calendar