Two Suns and a Bunch of Punks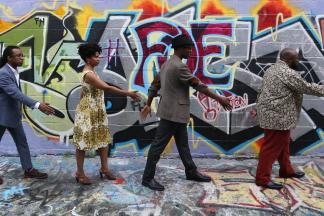 We've got fantastic news! Recently, the Afro House Concert Series was recognized as a noteworthy concert series by Baltimore Magazine. So, we're doing something very special for our fifth concert in the series: A fundraiser for and a preview of Afro Punk Ballet, an afrofuturistic opera-ballet that will open in October.
Join us on Saturday, July 14th at 7:00 p.m. at Single Carrot Theatre for the preview, an opportunity to sponsor items that will be used in the production and delicious bites prepared by local chefs.
BUY TICKETS HERE! Early Bird tickets available until July 6th!!
Another great option is to go Mixolo! Afro House is excited to partner with Mixolo, the solo-friendly social network. Mixolo's events are designed for solo guests that would like to share their experience with others coming out to see us on their own. Come see us with Mixolo and find your plus some here
Can't make it on the 14th? No worries, you can still support the work by donating here
ABOUT AFRO PUNK BALLET
Set years into the future, Afro Punk Ballet delves into the world of two sisters unable to agree on how to handle the catastrophic consequences of a decision made by their late father, Levi, a brilliant military scientist. With a unique spiritual knowledge of space and time, Levi creates a second sun. The unprecedented devastation of his sun brings the nation's inhabitants near extinction.
Corfaszia & Jakub. This excerpt is from Afro House Concert No. 3. Angeli Ferrette (Corfaszia), Simone Brown (Jakub), Corey Emerson, Max Bent and Scott Patterson perform a song from Afro House's opera-ballet, Afro Punk Ballet. Filmed by Julia Golonka
Event Contact
Alisha Patterson
2022714889
Event Details
Saturday, July 14, 2018, 7:00 PM – 10:00 PM
Prices: – Array
2022714889
Location
Add Event To Your Calendar