Jazz: A Night of Trios (Organix Trio, Heart of the Ghost Trio)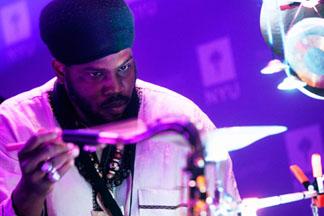 A night of trio music presented in two contexts with the Heart of the Ghost followed by Jamal Moore's Organix Trio celebrating their sophomore release, Psalms of Baltimore.
"As musicians we are healers of humanity and have a responsibility to cleanse dis-ease through positive tones, frequencies and vibrations. Music is the nucleus and universal language of the oversoul, mind, body and spirit."- Jamal Moore
Led by multi-instrumentalists Jamal Moore, who has worked with such notable visionary artists as Wadada Leo Smith (2013 Pulitzer finalist), Nicole Mitchell, Sabir Mateen, Roscoe Mitchell, David Ornette Cherry, the Organix Trio (Moore, Jeron White on bass, Warren G. Crudup on drums) captures the spirit of the Left Bank Jazz Society, and the free voice of jazz.
About Heart of the Ghost:
"Heart of the Ghost … performances feel like a kind of séance, with the trio locked into a musical conversation with one another. It's a language that has a "you had to be there" feel to it…"- Matt Cohen, Washington City Paper
The trio of alto saxophonist Jarrett Gilgore, bassist Luke Stewart, and percussionist Ian McColm are some of the finest free improvisors around. Glitchy and squank-y, their aesthetic Is not for the faint of heart. Like Albert Ayler or Ornette Coleman before then, their musical communication is locks the trio into a particular universe, where no one part is greater than the sum of the whole.
FRI MAY 18 | 8pm | $15, $12 Members, $10 students with valid ID (+$3 at the door)
Event Contact
Creative Alliance
410-276-1651
Event Details
Friday, May 18, 2018, 8:00 PM – 10:00 PM
Prices: – Array
410-276-1651
Location
Add Event To Your Calendar