OPUS CONCERT THEATRE PRESENTS "AÏDA"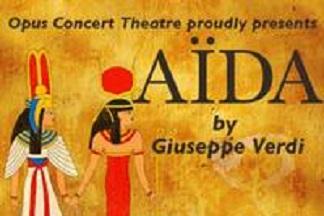 For Matinee Performance - 17 June 2018 - Father's Day Celebration! Delicious Gourmet Lunch Seating begins at 12 Noon. Performance begins at 1:15 pm.
Opus Concert Theatre proudly presents Giuseppe Verdi'sAÏDA - Concert Version, sung in Italian with English supertitle projections. Be transported to the land of Ancient Egypt, where the Pharaoh, their mighty army and the rule of the Gods reign supreme. In the midst of Egypt's warring turmoil is the turbulant love storm between a Captain - Radamès, an Ethiopian Princess slave - AÏDA and Princess Amneris, the daughter of the Pharaoh.
The Cast includes:
Aejin Kim - Concert Pianist
Karen Myers - AÏDA - Soprano
Aurelio Dominguez - Radamès - Tenor
Diana Cantrelle - Amneris - Mezzo-Soprano
Albert Niedel - Amonasro/AÏDA's Father - Baritone
Jonathan Stuckey - High Priest - Bass
Gregory Stuart - Il Re/Pharaoh/Amneris' Father - Bass-Baritone
Shanna Balman - High Priestess Soloist - Soprano
Ginny Morgan Arey - High Priestess Soloist - Mezzo-Soprano
Stephanie Shade, Priestess Trio - Soprano
Joseph Kaz - Messenger - Tenor
and Opus Octet Choir
Event Contact
Cyd Wolf
410-752-4515
Event Details
Sunday, June 17, 2018, 12:00 PM – 3:00 PM
Prices: – Array
1
Redemption Instructions
Five tickets are offered at half-price for each Cabaret performance. To claim yours, please call Germano's PIATTINI to make a reservation for dinner and the show. Mention this CultureFly discount when you do so. We will process your half-price ticket purchase during your call. Thank you! (410) 752-4515
Location
Add Event To Your Calendar