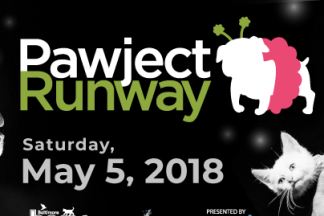 Show Your Soft Side and Baltimore Animal Rescue and Care Shelter (BARCS) will hold the sixth annual Pawject Runway, presented by Pet Valu, on Saturday, May 5, 2018 at Royal Farms Arena. The fashion show features "Softies," animal-loving professional athletes, entertainers and activists, who will strut the runway "modeling" a range of adorable and friendly dogs and cats in need of a home from BARCS.
The evening begins at 6 p.m. when guests can enjoy cocktails and light fare while playing with the furry "models" and mingling with the famous faces of the NFL in addition to various other athletes and entertainers. Guests can also participate in a silent auction and capture the evening at a selfie station.
The fashion show begins at 8 p.m. with Torrey Smith, wide receiver for the Super Bowl championship-winning Philadelphia Eagles, and his wife, Chanel Smith, serving as honorary co-chairs alongside returning co-chair John Rallo, Baltimore's godfather of MMA.
Show Your Soft Side and BARCS welcome on-site adoptions of the animals featured in the runway show.
Event Contact
Rachel Graham
Event Details
Saturday, May 5, 2018, 6:00 PM – 10:00 PM
Location
Add Event To Your Calendar