THE BAKER'S DOZEN OF YALE UNIVERSITY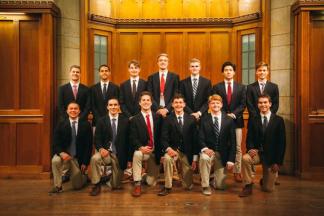 The Baker's Dozen of Yale University is 'one of the nation's oldest and finest a cappella groups.' The ensemble, founded in 1947 and comprised of sixteen male undergraduates, commands a broad repertoire of songs, ranging from traditional ballads to jazz, rock, and contemporary hits. The boundless energy and entertaining camaraderie of the "BDs" resonate with audiences in virtually any setting, be it a short set at a private part, a mid-size concert at a school, or a full-scale formal event in black tie. Highlights from recent Baker's Dozen albums include original arrangements of songs by John Legend, The Temptations, The Beatles, and Maroon 5.
The Baker's Dozen experience is grounded in long-standing tradition that extends far beyond singing, with a passion for music and friendship that is as strong today as it was in 1947.
Event Contact
Cyd Wolf
410-752-4515
Event Details
Monday, March 19, 2018, 6:00 PM – 9:00 PM
Prices: – Array
1
Location
Add Event To Your Calendar