BILL TOMS & HARD RAIN: "GOOD FOR MY SOUL"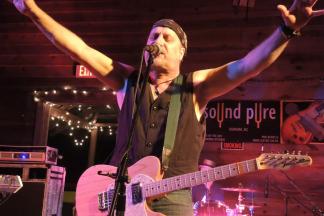 We are pleased to present Bill Toms, whose performances have become legendary in sheer power and passion. Rock and roll, soul, blues, and gospel so deep the earth moves, and the walls begin shakin' as Bill Toms and his band start the train rollin'. American music never sounded so good.
He joined Pittsburgh's legendary band, Joe Grushecky and The Houserockers, as lead guitarist in 1987. The band's meteoric rise into the professional music scene enabled Bill to tour the United States and Europe repeatedly. While with Joe Grushecky and the Houserockers he opened for and played with a long and impressive list of notables, such as The Band, Bob Dylan, Bruce Springsteen, Little Feat and Stevie Ray Vaughn. During his 20 years of playing guitar, co-writing, and singing back-up vocals for the Houserockers, Toms recorded six studio albums and one live concert album. In 1995, the acclaimed CD, "American Babylon," was recorded and produced by Bruce Springsteen.
Bill Toms' performances have taken him all over the United States and Europe. In addition to his previous seven studio CD's, one "Live" CD, and single EP, his latest record, the Will Kimbrough produced, "Deep In The Shadows" was released to international critical acclaim in 2015, and his newest album "Good For My Soul" (also produced by Kimbrough) is slated for release this Fall.
"Bill Toms is a poet, a soul-shouter and guitar slinger with one foot in the gutter and an eye on the heavens above. And man, does he front a great rock n' soul band!"
- Will Kimbrough
Event Contact
Cyd Wolf
410-752-4515
Event Details
Saturday, May 19, 2018, 6:00 PM – 9:00 PM
Prices: – Array
1
Redemption Instructions
Five tickets are offered at half-price for each Cabaret performance. To claim yours, please call Germano's PIATTINI to make a reservation for dinner and the show. Mention this CultureFly discount when you do so. We will process your half-price ticket purchase during your call. Thank you! (410) 752-4515
Location
Add Event To Your Calendar