New Orleans Jazz: Panorama Jazz Band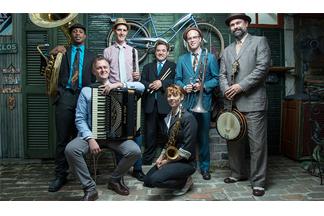 Direct from New Orleans!
Because the members of the Panorama Jazz Band need no electricity to fire up their instruments, they express natural human energy and bring their party to any bar room, street corner, living room, back porch, or Baltimore theater space. The instruments in this band (clarinet, saxophone, trombone, accordion, banjo, tuba and drums) have been inspiring people to dance for generation. The group's repertoire draws on the most exciting music from around the world: funky New Orleans Jazz, tropical rhythms of the Caribbean and exotic melodies of Eastern Europe. When they play, feet stomp, hands clap and butts shake. Rowdy or gentle, sweet or hot – people move!
JAN 17 | 7:30pm | $18, $15 members (+$3 at the door)
Event Contact
Creative Alliance
410-276-1651
Event Details
Wednesday, January 17, 2018, 7:30 PM – 9:30 PM
Prices: – Array
410-276-1651
Location
Add Event To Your Calendar