RUSS MARGO AND STACEY SCHWARTZ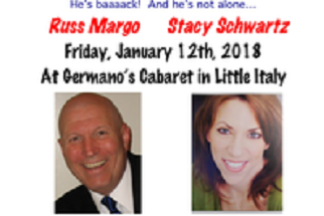 Enjoy an evening of music and comedy when two of Germano's cabaret favorite performers share the stage to entertain you with an eclectic mix of music and stories. Russ Margo's singing style recalls the days of the classic popular vocalists of the 20th century. Audiences have declared him the "best of the best", his repertoire ranging from Gershwin and Cole Porter to Al Jarreau and Lennon/McCartney.
Singer, dancer and musical theater performer Stacy Schwartz has been featured in a wide variety of roles in such as Nunsense and Annie and has appeared in variety shows from Miami, Florida to New York and from Boston to San Fransisco, Ca. Stacey's love for the Broadway stage can be heard in every song she sings. Cabaret fans will remember Stacey as the delightful lead vocalist for the swing band String Theory.
"...an evening of music and fun fit for everyone!"
Event Contact
Cyd Wolf
410-752-4515
Event Details
Friday, January 12, 2018, 6:00 PM – 9:00 PM
Prices: – Array
1
Location
Add Event To Your Calendar