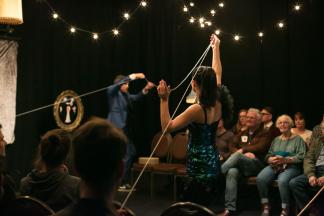 A Disappearing Act
By Single Shoe Productions
February 22 – 25
The great magician, Philip Winterbottom, cordially requests your presence for his final act. Sadly, he's dead. So…he won't be there. But, he's left his son and assistant very clear instructions. Join Philip's family and friends for one final disappearing act.
With exuberant music, magic and more than a healthy dose of audience participation, A Disappearing Act celebrates the absurd, and sometimes awkward, rituals we use to say goodbye to the ones we love.
Audiences from across four countries have praised Single Show Productions' previous work as "stunning", "poignant", "brilliant", "beautiful", "touching" and "highly entertaining". Don't miss your chance to see this innovative and highly original production.
Event Contact
410-752-8558
Event Details
Thursday, February 22, 2018, 8:00 PM – 10:00 PM
Friday, February 23, 2018, 8:00 PM – 10:00 PM
Saturday, February 24, 2018, 2:00 PM – 4:00 PM
Saturday, February 24, 2018, 8:00 PM – 10:00 PM
Sunday, February 25, 2018, 3:00 PM – 5:00 PM
Prices: – Array
410-752-8558
1
Location
Add Event To Your Calendar