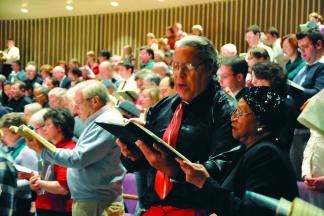 Sing-Along Messiah
Blake Clark leads the audience in the great choruses from Handel's magnificent Messiah. New this year is the performance of the complete oratorio, and featuring the Baltimore Choral Arts Chamber Chorus. Join us for this unique, 3-hour concert experience. Bring your own musical score or purchase one at the concert.
Below is a list of all the Chorus the audience will sing in this season's Sing-Along Messiah:
"And the glory of the Lord"
"O thou that tellest good tidings to Zion"
"For unto us a child is born"
"Glory to God in the highest"
"Behold the Lamb of God"
"Lift up your heads, O ye gates"
"Let all the angels of God worship Him"
"How beautiful are the feet"
"Their sound is gone out"
"Hallelujah"
"Since by man came death"
"But thanks be to God"
"Worthy is the Lamb"
"Amen"
Event Contact
Karena Ingram
4105237070
Event Details
Friday, December 15, 2017, 7:30 PM – 10:30 PM
Prices: – Array
4105237070
1
Location
Add Event To Your Calendar