Pride of Baltimore II FREE Deck Tours!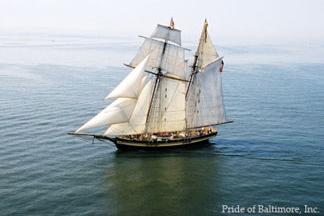 Cross the gangway and come aboard to learn about America's Star-Spangled Ambassador, Pride of Baltimore II. Explore the deck and talk to her captain and crew. Learn about the history of Baltimore Clippers and the role privateers played in the War of 1812; or hear from a crew member what it is like to sail a tall ship today. Dates and times for deck tours are subject to change with short notice.
For guests with disabilities: Please note the Pride II is not accessible. Special needs are considered on an individual basis. Please contact Pride staff before the event at [email protected] or 410.539.1151 if you have any mobility restrictions. More information available on our website.
Event Contact
Pride of Baltimore, Inc.
410-539-1151
Event Details
Sunday, October 1, 2017, 10:00 AM – 2:00 PM
Saturday, October 7, 2017, 10:00 AM – 2:00 PM
Sunday, October 8, 2017, 10:00 AM – 4:00 PM
Saturday, October 21, 2017, 10:00 AM – 2:00 PM
Sunday, October 22, 2017, 10:00 AM – 2:00 PM
Free Admission
Location
Add Event To Your Calendar