Selections from the Rouse Company | Howard Hughes Corporation Art Collection: An Exhibit in Celebration of Columbia's 50th Birthday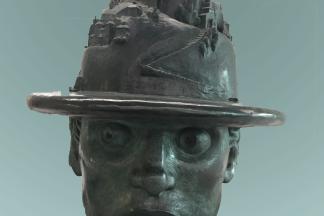 This special exhibit celebrates the pivotal role the arts have had in advancing the ideals of Columbia and inspiring the local community. Select artwork from The Rouse Company | The Howard Hughes Corporation art collection – originally on display at the Rouse headquarters building but largely tucked away since the company's relocation in 2013 – will once again be on display for all to enjoy.
Join us for a special opening reception September 6 from 6:30-9pm featuring lively discussions and presentations reflecting on art's role throughout Columbia's past, present, and future. Former Rouse Company employees will serve as guest docents and share 'insider' insights about the collection. Featured artists Vicki Scuri and Mary Ann Mears will take part in informal Q&A sessions about the public art installations in Downtown Columbia, and William Cochran of Cochran Studio will talk about the transformational role of public art in cities across the country and the future possibilities for public art in our community.
A second reception will be held on September 15 from 6-8:30pm as part of the Arts Council's annual grant awards presentation with County Executive Allan Kittleman (invited). Join us and help celebrate the past, present, and future of the arts!
Event Contact
Katie Wofford
410-313-2787
Event Details
Repeats weekly Monday and Tuesday and Wednesday and Thursday and Friday -- until Friday October 13, 2017 -- except Monday September 4, 2017.
Repeats weekly Saturday -- until Friday October 13, 2017.
Repeats weekly Sunday -- until Friday October 13, 2017.
Free Admission
Location
Add Event To Your Calendar