Spectrum: 2017 Visual Arts Faculty Exhibition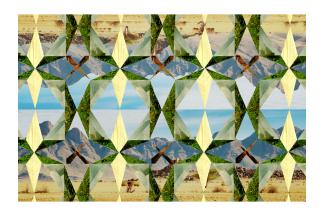 Spectrum: 2017 Visual Arts Faculty Exhibition
Center for Art, Design and Visual Culture
November 2 – December 16
UMBC's Center for Art, Design and Visual Culture presents Spectrum: 2017 Visual Arts Faculty Exhibition, featuring artworks by Eric Dyer, Corrie Parks, Peggy Re, and Sarah G. Sharp.
An opening reception will be held on Thursday, November 2, from 5 to 7 pm, and the gallery will open for regular hours on Friday, November 3.
The artists will present a series of talks on their works in the gallery:
Monday, November 6, 12 – 1 p.m. — Eric Dyer
Wednesday, November 8, 12 – 1 p.m. — Sarah G. Sharp
Wednesday, November 15, 12 – 1 p.m. — Peggy Re
Wednesday, November 29, 12 – 1 p.m. — Corrie Parks
Admission to the exhibition and the lectures is free. The Center for Art, Design and Visual Culture is open Tuesday through Saturday from 10 am to 5 pm and is located in the Fine Arts Building. For more information call 410-455-3188.
Image: Sarah G. Sharp, Whole Earth Systems: Double Mountain, 2015, Inkjet print from digital collage, Edition of 5, 20″h x 30″w, photo courtesy of the artist
Event Contact
Symmes Gardner
410-455-3188
Event Details
Repeats weekly Tuesday and Wednesday and Thursday and Friday and Saturday -- until Saturday December 16, 2017 -- except Thursday November 23, 2017, Friday November 24, 2017.
Free Admission
Location
Add Event To Your Calendar