Actor's Lab: Character Creation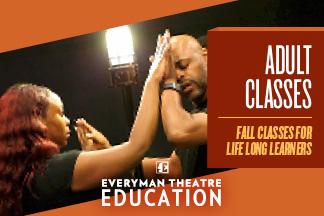 Actor's Lab: Character Creation
Age Group: 18+
Tuition$185
Connect to your creative potential in skill building through theatre classes that illuminate the fundamentals of the professional process for all experience levels. With an emphasis on the life skills theatre cultivates, learn from theatre experts how to express, articulate, share, and collaborate using the tools of the professional theatre practitioner.
Explore the other! Experiment with the body and voice as you practice bringing a character to life onstage. Just as an actor does, learn about other worldviews by inhabiting a character's reality different than your own.
Event Contact
Brenna Horner
443.615.7055 ext 7142
Event Details
Repeats weekly Tuesday -- until Tuesday November 14, 2017.
Prices: – Array
443.615.7055 ext 7142
Add Event To Your Calendar