Actor's Lab: Self Expression Through Story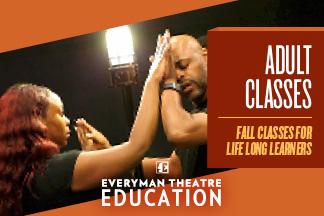 Actor's Lab: Self Expression Through Story
Age Group: 18+
Tuition: $185
Find your voice! Engage in the work of the actor by connecting to a deeper sense of self. Discover the storyteller within In the safety of the Everyman classroom, experience the power and joy of bringing stories forward, sharing, and adopting new journeys as your own. Like actors, understand how the body and voice are integral to compelling storytelling and practice creative risk-taking.
Event Contact
Brenna Horner
443.615.7055 ext 7142
Event Details
Repeats weekly Tuesday -- until Tuesday October 10, 2017.
Prices: – Array
443.615.7055 ext 7142
Add Event To Your Calendar