Creative Alliance presents the Hampstead Hill Festival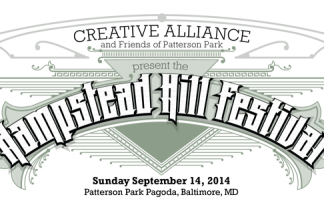 On Sunday September 14, 2014, the Creative Alliance commemorates the two hundred year anniversary of the Battle of Baltimore in the War of 1812 by producing a festival at the exact site at which American forces, including local militia and thousands not born in this country, formed a line to repel the British land attack on the city. Then known as Hampstead Hill, the location at the west edge of Patterson Park still features original battlements and redoubts built by the citizens of Baltimore to defend their city, a city hated by the British as the home port of the 1812 privateers who were embarrassing the Royal Navy throughout the war. Under the direction of Captain John Rogers, and known as Rogers' Bastion, the battle line was so impressive that the British surveying it's cannons from encampments to the East ultimately retreated without firing a shot at the city. While DC had been burned to the ground just days earlier, the citizens of Baltimore successfully defended themselves from one of the most famous militaries in the world.
The Creative Alliance celebrates the victory of a city that wouldn't be licked, producing a day-long people's festival complete with historical reenactments, interactive and educational activities for the young and old, food, refreshments, and multiple stages of musical entertainment. The day-long celebration culminates in a performance by Governor Martin O'Malley's Irish rock band O'Malley's March, a humongous Star Spangled Banner Sing-a-Long (complete with bouncing ball!) as well as a performance of 1814: The Rock Opera, which reimagines the Battle of Baltimore as a 1970s-style hard-rock spectacle. Join us for the fun, and learn about Baltimore's history!
Event Contact
Creative Alliance
(410) 276-1651
Event Details
Sunday, September 14, 2014, 10:00 AM – 8:30 PM
Free
Location
Add Event To Your Calendar