Cerebral Sorcery - magic for your brain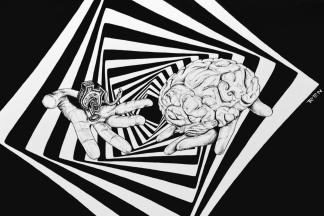 A mysterious box taunts two eccentric magicians. They must solve a series of curious riddles and metaphysical puzzles in order to unlock its secrets.
Magicians Francis Menotti and David London bring Cerebral Sorcery back to the stage, 15 years after it first premiered! Featuring a series of magical vignettes, the duo takes audiences on a philosophical journey into the human mind, and the quest for understanding.
Its a magic show for your brain!
Recommended for ages 16+
DATES & TIMES:
Friday, August 11 @ 8:00pm
Saturday, August 12 @ 5:00pm & 8:00pm
Sunday, August 13 @ 2:00pm
TICKET PACKAGES: General Admission; VIP First Three Row Seating; VIP First Three Row Seating + Close-up Magic show BEFORE the show!
ABOUT THE MAGICIANS:
Francis Menotti is an artist and craftsman of the impossible. A creator of original theatrical presentations of illusion, he has established himself at the forefront of the industry, internationally respected by his peers and audiences alike. He is a frequent performer at the Hollywood Magic Castle, makes annual appearances for George R.R. Martin at the author's theatre in Santa Fe, successfully fooled Penn and Teller on their hit TV show, Fool Us, and most recently consulted for the magical card work on the 2016 remake of the Magnificent Seven. www.francismenotti.com
David London discovered he was a magician at the age of 7. In his over 20 year quest to understand just what that means, he has created six original theatrical magic productions, including Magic Outside The Box, The Imagination Show, and Art of Dreams. His unique style combines illusion with storytelling, comedy, surrealism, and that which cannot be defined, to create original shows of magic unlike any you have experienced before. He regularly presents his shows and workshops at theaters, museums, galleries and festival across the country. www.DavidLondonMagic.com
Event Contact
David London
3017874250
Event Details
Friday, August 11, 2017, 8:00 PM – 9:30 PM
Saturday, August 12, 2017, 5:00 PM – 6:30 PM
Saturday, August 12, 2017, 8:00 PM – 9:30 PM
Sunday, August 13, 2017, 2:00 PM – 3:30 PM
Prices: – Array
3017874250
1
Add Event To Your Calendar
What Others Are Saying
"No ordinary magic show" -Richmond Times-Dispatch
"Intellectual Wizardry" -DC Metro Theater Arts
"Twists your mind into knots before blowing it" -Chicago Tribune
"The philosophical side of magic" -Pittsburgh City Paper
"Surpasses basic tricks" - Baltimore Style