Kinsey Sicks Present: Things You Shouldn't Say!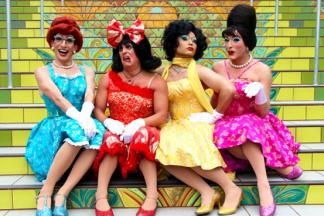 Join the America's Favorite Dragapella® Beautyshop Quartet as they lead us all in resisting these new dark times with laughter, integrity, and heroically high hair in an unforgettable new musical exploring Trumpism, racism, AIDS, extreme macramé, oblong vegetables and, of course, Bette Midler.
This is the remarkable true story of four friends from San Francisco who had a life-changing epiphany at a Bette Midler concert that led to them to form The Kinsey Sicks in an effort to find joy during the darkest days of the AIDS crisis. Now that the era of Trumpism is upon us, they're sharing their hilarious, inspiring and at times heartbreaking tale, and showing that hatred and deceit can be fought with humor and heart.
"The hottest ticket in town ... taking the cabaret world by storm ... voices sweet as birdsong."- New York Times
Event Contact
4102761651
Event Details
Friday, August 18, 2017, 8:00 PM – 8:00 PM
Location
Add Event To Your Calendar