Old Style Irish Step Dance w/ Marafino, Professional Irish Step Dancer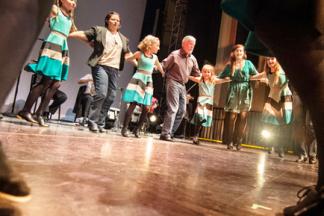 If you missed the first Old Style Irish Step class, or just want to improve on your skills, keep on steppin' with Catherine Marafino in this Old style step dance class! Great for beginning dancers or percussive dancers from other genres who would like to try Irish Step Dancing. Taught and passed down by traveling "dance masters," this style predates modern, competition-style step dance popularized by "Riverdance". Instead, this dance form is characterized by small, close to the floor steps and a relaxed upper body. This 4-week class will focus on variations on the basic reel side step from Paddy Ban O'Brien and Patrick O'Dea.
11am-noon | $85, $75 mbrs
Event Contact
Creative Alliance at The Patterson
4102761651
Event Details
Repeats weekly -- until Saturday March 25, 2017.
Prices: – Array
4102761651
Location
Add Event To Your Calendar