The Shattering Frame: A Bridgette Miakowsky Mystery, presented by Baltimore Annex Theater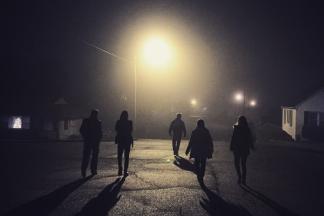 RUNNING 4 WEEKENDS (NOT 2!)
MARCH 23 - APRIL 16TH
THURSDAYS - SUNDAYS, 8PM
Baltimore Annex Theater is excited to present The Shattering Frame: A Bridgette Miakowsky Mystery, an original play written and directed by company member Trevor Wilhelms (LBD, 10,000 Things I Would Do If You Died Before Me). Starring Autumn Breaud, Liz Christmas, Mika Nakano, Jacob Zabawa, Scott Burke, Sarah Heiderman, Nina Kearin, and Dave Iden. Featuring live music by Saxophonist Martin Kasey and Percussionist Rick Gerriets. Costumes by Kristina Green, Set by Doug Johnson, Lighting by David Crandall.
ABOUT THE PLAY
When someone goes missing in her city, Bridgette Miakowsky is the one to find.
She used to be a deputy in the City Police Force, she used to have a family, but she's put that, and a lot more behind her. Now she's gone private and you can find her listing somewhere between the strip club ads and the obituaries.
The sister of an orphan kid goes missing in a rough part of the south-west sector of the city. People go missing all the time around here, but this Kid's more than smart enough to find the office door of a semi-retired Miakowsky. In pursuing the sister's whereabouts, some strange associates, friends, and accomplices come forward to either help, or just feed them a line of hogwash.
Turns out they might just break a crack in this case wide enough for the whole city to see the truth.
Event Contact
Samy el-Noury, Managing Director, Baltimore Annex Theater
(917) 719-6583
Event Details
Repeats every 4 weeks Sunday and Thursday and Friday and Saturday -- until Sunday April 16, 2017.
Prices: – Array
Location
Add Event To Your Calendar