Leo Sandoval / Nic Gareiss + Cleek Shrey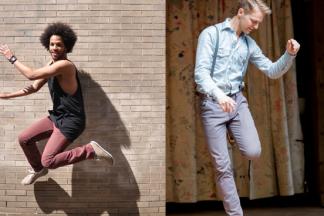 A spellbinding night of rhythmic percussive dance from two of the best.
Leo Sandoval + Eduardo Belo
About Leo
Brazilian tap dancer Leonardo Sandoval is quickly gaining a stellar reputation in the tap world for his musicality and by incorporating Brazilian rhythms, music and dance styles to tap dance. He began his dance studies at age 6 in Piracicaba (São Paulo State). When he was 11-years-old, he appeared on Brazilian TV, and at 18, he was invited to Los Angeles to attend the Debbie Allen Dance Academy for the Summer Intensive program, as well as the L.A. Tap Festival. Leo also co-founded the Cia Carioca de Sapateado in Rio de Janeiro with the aim of bringing tap dance to a wider audience in Brazil.
In 2013, Leo moved to New York, where he is now working with Michelle Dorrance's acclaimed company, Dorrance Dance. In addition to solo projects as a dancer and choreographer, his recent credits include performances at Jacob's Pillow, the Fall for Dance festival, the Lincoln Center, the Richmond and Lowell Folk festivals, and the Chicago Human Rhythm Project's Rhythm World. Since September 2014, Leo has been an artist in residence at the American Tap Dance Foundation. As a choreographer, Leo premiered Music from the Sole, an hour-long show created with American bassist and composer Greg Richardson, at the Creative Alliance. In collaboration with the Jacob's Pillow Dance Festival, excerpts from the show were also presented in New York and Massachusetts. Other recent credits include a guest appearance with Jazz at Lincoln Center's Michael Mwenso & The Shakes, performances at the National Folk Festival, ATDF's Rhythm in Motion, and interviews on MSNBC, the CW channel, and Fox. Upcoming projects include US and international tours with both Dorrance Dance and Music from the Sole, as well as new choreographic work.
About Eduardo
Eduardo Belo is a young bass player and composer from Brazil that has a unique sound and musical taste. Being fluent in both jazz and Brazilian music, Eduardo plays on a regular basis as a sideman for many great artists/musicians from the scene. Among those artists there are names like Duduka Da Fonseca, Helio Alves, Claudio Roditi, Kevin Hays, Gabriel Grossi, Koran Agan, Ari Hoenig, Cyro Batista and many others. He has many recordings with groups and artists in New York City and in Brazil.
Nic Gareiss + Cleek Schrey
Gareiss and Shrey come together as members of a new generation of artists exploring traditional music and dance. Together they create seamless and simpatico duet performances with the fiddle and percussive dance practices from Ireland and Appalachia. Using the elements of traditional repertoire, improvisation, and experimental composition, their work foregrounds melody, sonic texture, and explores the performative possibility of traditional music and dance.
About Nic:
Michigan-born dancer Nic Gareiss has been described by the Irish Times as "the human epitome of the unbearable lightness of being," and "the most inventive and expressive step dancer on the scene" by the Boston Herald. His choreographic work re-imagines movement as a musical practice, recasting dance as a medium that appeals to both eyes and ears. Nic holds a degree in Anthropology from Central Michigan University and an MA in Ethnochoreology from the University of Limerick.
About Cleek:
Described by the Irish Times as "a musician utterly at one with his instrument and his music," Cleek Schrey is a fiddler and hardanger d'amore-player and composer from Virginia. An active member of traditional music communities in America and Ireland, he plays in the Ghost Trio with Ivan Goff and Iarla Ó Lionáird. His work has been presented at PioneerWorks Center for Art and Innovation in Brooklyn, Storm King Art Center, the Kilkenny Arts Festival, the Lumen Performance Art Festival, and the Bridge Progressive Art Center. Cleek frequently makes music for dance, having worked with choreographers Douglas Dunn and Bill T. Jones and percussive dancer Sandy Silva. He has studied composition with David Behrman, Paul Caputo, Bunita Marcus, and Walter Zimmermann. The journal Sound Post has noted that Cleek "possesses a rare combination of traits: deep respect for traditional music and the people who make it, and an unbounded curiosity about new directions for sound." He is currently pursuing a Masters in Music Composition at Wesleyan University.
8pm | $18, $15 mbrs | + $3 at the door
Event Contact
410-276-1651
Event Details
Saturday, March 25, 2017, 8:00 PM – 10:30 PM
Prices: – Array
410-276-1651
1
Location
Add Event To Your Calendar