William Shakespeare's Henry The Fifth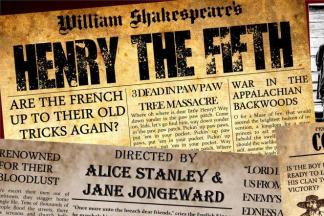 William Shakespeare's HENRY THE FIFTH
Directed by Alice Stanley & Jane Jongeward
MARCH 9 - 26, 2017
Industry Night: Monday March 20th
At Cohesion's Space at United Evangelical Church - 923 S. East Ave.
Prince Hal no more, Henry the Fifth has inherited the crown upon the death of his Father, and must overcome the bluster of his youth to lead his people. But his brashness soon brings him into conflict with the Lords of France, and he must now command a war weary nation from the front lines. Inspiring in its speeches and epic scope, Cohesion brings the courts of England and France to rest in 1882 Appalachia in an effort to strip away the nobility and create an intimate examination of brutality and glory that leads us to ask; What contradictions and consonances do we see in the human and specific costs of violence when shifting the scale of the struggle?
Stanley and Jongeward have transported the action from its historical location of 1400s England and France to 1882 Appalachia and more specifically to Tug Valley on the border of Kentucky and West Virginia during the height of the Hatfield and McCoy Feud. Employing traditional Bluegrass music and ballads along with three-quarter rounded stage and period accurate violence, Cohesion offers an immersive experience that highlights the human cost in the midst of the conflict of nations and kings.
Opening night for Henry the Fifth is Thursday, March 9 at 8pm. Following opening night the show will run Fridays and Saturdays at 8pm and Sundays at 4 pm from March 9th - 26th, 2017.
Tickets are $20 for Adults and $15 for Students and Seniors and can be purchased online at www.cohesiontheatre.org.
A special industry night performance will be held Monday, March 20th at 8 pm at which tickets for all artists will be just $10.
Cohesion performs in "The Fallout Shelter" at United Evangelical Church (923 S. East Avenue, Baltimore, MD 21224) at the corner of East Avenue and Dillon Street in Canton. Patrons should enter the space through the grey doors on East Avenue.
For more information about the 2016/17 Season at Cohesion Theatre Company, visit www.cohesiontheatre.org
Cast:
Zach Bopst - Henry the Fifth
Meghan Stanton - Exeter
Micaela Mannix - Katherine/Boy/Bates
Lyle Smythers - Pistol
Caitlin Carbone - Dauphin/Cambridge
Chara Bauer - Constable/Gray
Barbara Hauck - Fluellen
Daniel Douek - Gower
Nancy Linden - French King/Williams/Bedford
Elana Michelle - Bardolph/Orleans
Matthew Casella - Nym/Montjoy/Court
Katharine Vary - Hostess/Rambures/Westmoreland
Lance Bankerd - Chorus/Erpingham/Scroop/Fr.Soldier/Messenger
Production Team:
Alice Stanley - Director
Jane Jongeward - Director
Jeff Miller - Stage Manager
Lana Riggins - Lighting Designer
Heather Johnston - Costume Designer
Casey Dutt - Set Designer
Brad Norris - Production Manager & Fight Choreographer
Matthew Casella - Music Director
Kris Messer - Dramaturg
Event Contact
Event Details
Repeats weekly Friday and Saturday -- until Sunday March 26, 2017.
Repeats weekly Sunday -- until Sunday March 26, 2017.
Prices: – Array
Location
Add Event To Your Calendar