AIABaltimore and BAF Spring Lecture Series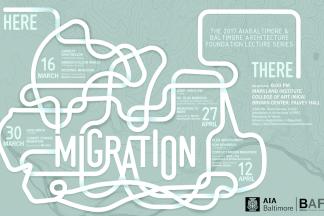 This year's Spring Lecture Series theme is Migration.
Migration is essential to human survival. Whether driven by the spirit of discovery or hope for a better life, whether forced by conflict or required for access to resources – massive change alters us in small ways and large. How do we adapt to these uncertainties in a mindful way? What are the predominant patterns we can learn from and look towards? Our four lectures explore conflict-driven migration, climate change migration, regional migration that crosses state lines and interplanetary migration to Mars. We hope that this assembled group of experts can help us appreciate how migration can be a uniting force.
FREE to attend, registration required. All lectures will be held at Falvey Hall in the MICA Brown Center at 6:00 pm with a reception to follow.
Schedule
March 16 – Regional Migration
Garrett Dash Nelson, Dartmouth College
Amanda Kolson Hurley, Freelance Journalist
March 30 – Climate Change Migration
Gena Wirth, SCAPE
April 12 (on a Wednesday) – Conflict-Driven Migration
Eliza Montgomery & Don Weinreich, Ennead Lab
April 27 – Migration to Mars
Jerry Van Eyke, !melk Landscape Architecture
Dr. Olga Bannova, Sasakawa International Center for Space Architecture, University of Houston
Event Contact
Nathan Dennies
410.625.2585
Event Details
Repeats every 2 weeks Thursday -- until Thursday April 27, 2017 -- except Thursday April 13, 2017. Also includes Wednesday April 12, 2017.
4106252585
Free Admission
Location
Add Event To Your Calendar