Christmas Village in Baltimore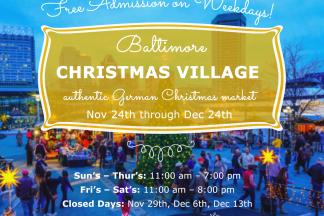 German Christmas sails into Baltimore! West Shore Park at Baltimore's Inner Harbor will once again transform into a European Wonderland for the annual Christmas Village. Starting from Thanksgiving and running until Christmas Eve (November 24th – December 24th 2016), a large variety of weekday and weekend events designed to please young and old await to be explored!
Over 50 international vendors – located both inside a huge heated festival tent and outdoors in traditional wooden booths – will offer their unique giftware! Always a Must-See: famous German vendor Käthe Wohlfahrt, which features genuine German Arts and Crafts such as Schwibbogen, Pyramids, Glass Ornaments, Nutcrackers and Incent Smokers.
Enjoy a large variety of German foods such as Bratwurst fresh from the grill with a side of home made Sauerkraut, Schnitzel with Potato Salad, Leberkäse (German meatloaf), a Berlin style Currywurst and of cause our Pretzels!
New in 2016: Make sure to stop by at Santa's Place to get the pictures for your Holiday Cards while you are out and about. Bring the little ones to meet him, tell him their wishes and secure themselves a spot on the nice list! Santa will be waiting at his indoor place every day from November 24th through December 24th.
As always, Christmas Village comes along with an extensive schedule of events for you to attend: weekly Wine Tastings, Kids Fridays, Arts and Crafts classes to name just a few examples for weekday happenings. Crowd puller weekend events such as the Opening Ceremony with the original Christkind from Nuremberg/Germany and the German American Weekend will of cause return. Make sure to check our online event schedule on our website from late October on to plan your trip to the market!
What are you waiting for? Come and celebrate with us at Baltimore's authentic German Christmas Market! Visit www.baltimore-christmas.com to get more info on programming and our vendors or simply get connected on Social Media (https://www.facebook.com/christmasvillage.baltimore/, https://twitter.com/baltimorexmas, https://www.instagram.com/baltimorexmas/ ).
Dates of Christmas Village in Baltimore 2016
Sneak Peak: November 24th
Last Day: December 24th
Closed: November 29th, December 6th and 13th (first 3 Tuesdays)
Opening Times
Sun. - Thur.: 11 am – 7 pm
Fri. - Sat.: 11 am – 8 pm
Thanksgiving Day: 11 am – 5 pm
Christmas Eve: 11 am – 5 pm
Location: 501 Light Street, Baltimore, MD 21230 (West Side of Baltimore's Inner Harbor)
Admission: Weekdays are always free of admission! Outdoor area is always free of admission! The first weekend is free! For weekend tent admission please check http://www.baltimore-christmas.com!
Event Contact
Sophia Becker
Event Details
Thursday, November 24, 2016, 12:00 AM – Saturday, December 24, 2016, 12:00 AM
Prices: – Array
Location
Add Event To Your Calendar