Fake Flowers Real Dirt & Hackensaw Boys "LIVE" at HillFest 2016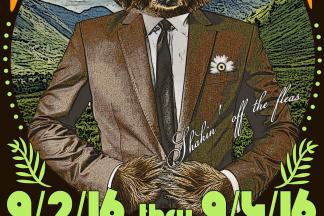 This Labor Day weekend, Hillsville, VA will play host to one of the most unique and magnificent gatherings this side of the Mississippi river. Held on the 40th Anniversary of the world renowned "Stompin 76", HillFest is three days of spirited revelry with an effervescent air of music, art, and Blue Ridge Mountain culture. Join us for our inaugural festival that promises an epic experience for all ages.
Headliners for this year's festival include The Church Sisters (Bluegrass, Country, Gospel/Galax, VA), Hackensaw Boys (Strings, Punk, Bluegrass/Charlottsville, VA) and Fake Flowers Real Dirt (Funktronic Breakbeat Soul-Jazz/Baltimore, MD). Also scheduled to to appear are Annabelle's Curse, Will Jones, Josiah & The Greater Good, BackPorch Bluegrass, Changing Lanes, Mad Iguanas, Firecracker Jam, Tara Mills & Jimmy Stelling, Gipsy Danger, The New Ballards Branch Bogtrotters, Mickey Galyean & Cullen's Bridge, Highway 249, The Loose Strings Band, Another Roadside Attraction, the Mastertones, Kara Beth, Dalton Dash, Reverend Ruckus & His Heathen Deacons, Stagecoach and more. 4 stages. Over 30 bands. Dancing. Hot air balloon. Artisans and vendors. Libations. Camping. Children's activities. Delectable fare for every taste.
HillFest offers shuttle service to and from Hillsville's famous Labor Day Flea Market, giving you the chance to hunt for treasures, shake off the fleas as you dance the night away, and do it all again the next day.
For tickets and more info, please visit http://www.hillfestva.com 
Event Contact
Brian Parnell
Event Details
Friday, September 2, 2016, 12:00 PM – Monday, September 5, 2016, 12:00 PM
Prices: – Array
Location
Add Event To Your Calendar