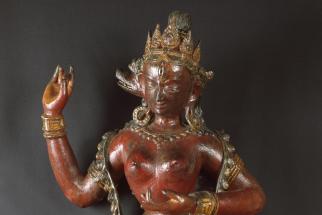 Wednesday, March 15, 2017, 10:00 AM – Wednesday, June 28, 2017, 4:00 PM
Repeats weekly Sunday and Wednesday and Thursday and Friday and Saturday -- until Sun Apr 16 2017.
The Walters Art Museum
Free Admission
Striking works of Himalayan art depict wrathful Buddhist deities with fearsome qualities. Although they may appear intimidating, these deities use their power to guard against antagonists and thwart obstacles to the spiritual goals of their devotees. Featuring twelve sculptures, paintings, and ritual objects drawn primarily from the Ford Collection, this exhibition deepens our understanding of these compelling images.